Coal is driving China's hydro electric plants and it is the dirtiest of all fossil fuels, it creates more pollution than oil, natural gas and gasoline when burned. That is why Bejing is one of the most dirtiest places on earth.

Liquid natural gas (LNG) is the cleanest fossil fuel, and Canada has an abundance of natural gas.
"That's another significant piece that people miss on this whole LNG story in B.C – that we're actually helping large economics that are continuing to grow to create new transition fuels to get out of older fuels into cleaner-burning fuels," said Greg D'Avignon, CEO of the Business Council of BC.
Northeastern BC is home to the Montney Formation and Horn River Basin, the third largest hydrocarbon fields in North America.
Between the drilling, piping, and exporting of the natural gas in British Columbia, there is over $100 billion of proposed capital investment. Each project has one key component, all of the natural gas comes from Northeast BC.
A few of these massive capital projects proposed:
Here are some recent developments pointing to one of the biggest upcoming booms in Canadian history.
$715-million natural gas processing plant gets go-ahead
Construction of the $715-million Tower natural gas processing plant, which would be south of Fort St. John, has received the go-ahead from the Cutbank Ridge partnership formed by Encana and Mitsubishi.
The Tower complex includes a processing plant as well as storage and other facilities.
The decision to build the Tower complex follows the announcement of a $860-million natural gas plant near Dawson Creek, for Cutbank Ridge.
Both processing plants are expected to start operating in 2017, and would handle natural gas from the Montney Formation. [source]
Site preparations underway at LNG Canada site in Kitimat
It's not a final investment decision but LNG Canada is embarking on early site preparation at their proposed liquefaction plant site which will pave the way towards a smoother construction phase.
As of right now there are currently 120 people working on site.
If a positive FID is made in 2016 the company would then shift to construction of permanent facilities on the property. [source]
Another item leading up to their FID, is the decision to lease a parking lot at Northwest Regional Airport in Terrace.
"LNG Canada has made provisions for parking at the Northwest Regional Airport in Terrace to function as a "park-and-ride" facility for LNG Canada staff and contractors who live in Terrace and the surrounding areas," [source]
Petronas LNG terminal 'not likely' to harm Flora Bank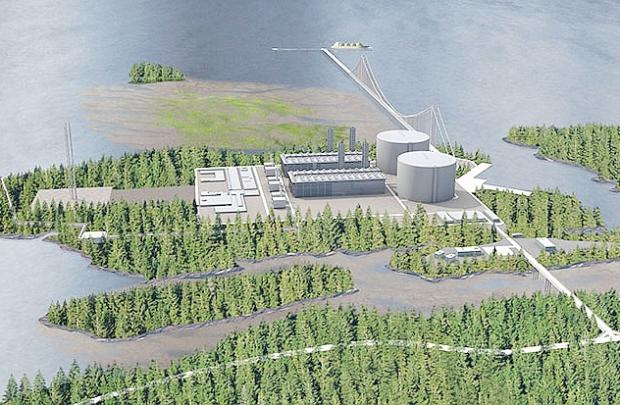 Pacific NorthWest LNG, led by Malaysia's state-owned Petronas, wants to build an $11.4-billion export terminal on Lelu Island, which is located next to Flora Bank.
"The technical work completed to date indicates that the project is not likely to cause significant adverse environmental effects on fish and fish habitat," according to the consortium's 36-page summary of its findings. [source]
Recent news about an global glut of LNG under production has cast a shadow over BC's prospects to develop the industry, but as late as mid November Petronas CEO Datuk Wan Zulkiflee Wan Airffin said, "the company will proceed, pending federal approval." [source]

Construction on the massive Site C Dam is underway, the Civil Contractors have been announced and construction to house the workers has begun.
Between the $8.9 billion BC Hydro Site C Dam, and the over $100 billion of proposed capital for BC LNG, the population in Northeastern BC is expected to double by 2020.
These massive capital projects create high paying jobs, and people move to the region to fill these jobs. The average age in Fort St. John is 29 years old with an average income of $108,000.
Let me find you investment opportunities that will pay huge dividends to you and your family for years to come.

Find out how through well selected properties in Fort St John our investors are achieving annualized returns up to 26%.
Call me today to find out what properties can acheive your short term and long term investment goals.